Regular price
Rs. 380.00
Sale price
Rs. 375.00
Unit price
per
Sale
Sold out
Effective, aluminium-free, non-staining natural deodorant.
With a delicate chammomile and bergamot fragrance, this soothing blend of oils and botanicals helps reduce odour, controls bacterial growth, and keep the underarms happy and healthy. 
Key Benefits: 
* Aluminium-free. Does not clog pores

* Free from anti-perspirants 

* Lauric Acid helps control body odour naturally


* Helps heal and repair delicate underarm skin

* Essential oils of chammomile and bergamot for a delicate and soothing experience

* Non-staining

* Free from parabens, phthalates, talcum powder, propylene glycol, HCFCs/CFCs 

 

* Long-lasting
Description
A natural deodorant that is free from aluminium, parabens, and other pore-blocking compounds. Pure botanical extracts of chammomile and bergamot give a gentle lasting fragrance. Use our natural deodorant to help control body odour and reduce bacterial build-up without irritating your skin. 
Our deodorants are made with virgin coconut oil – a powerful anti-bacterial agent, with great hydrating and anti-inflammatory properties. Lauric Acid effectively controls the growth of smell-producing bacteria, while keeping the delicate underarm skin soft, supple and healthy. We use cornstarch for it's powerful deodorizing effect, and shea butter for extra hydration. 
Even the most sensitive underarms will appreciate this creation!
Why you should use natural deodorant:
Most deodorants or 'anti-perspirants' contain aluminum compounds which are intended to temporarily stop the flow of sweat. Blocked sweat glands can cause infection, irritation and excess production of smelly sweat over time. Regular deodorants are also chock-full of silica, talcum powder (the solid ones), mineral oils, triclosan, parabens, and aerosols to name a few ingredients. All of these act as skin irritants (to say the least). Studies suggest that the body becomes immune to the effects of aluminium-based deodorants over time, and results in more pungent odours instead.

Instructions for use:
* Scoop out a pea-sized amount of natural deodorant and apply onto each underarm, just after a bath
* Rub in, or allow 2-3 minutes to absorb
* A little goes a long way!
* Wearing natural fabrics, and drinking lots of water will help reduce strong body odour quickly. 
Ingredients: virgin coconut oil, shea butter, bees wax, corn starch, mandarin essential oil, bergamot essential oil, chammomile essential oil
Net Qty: 25 g 
Share
View full details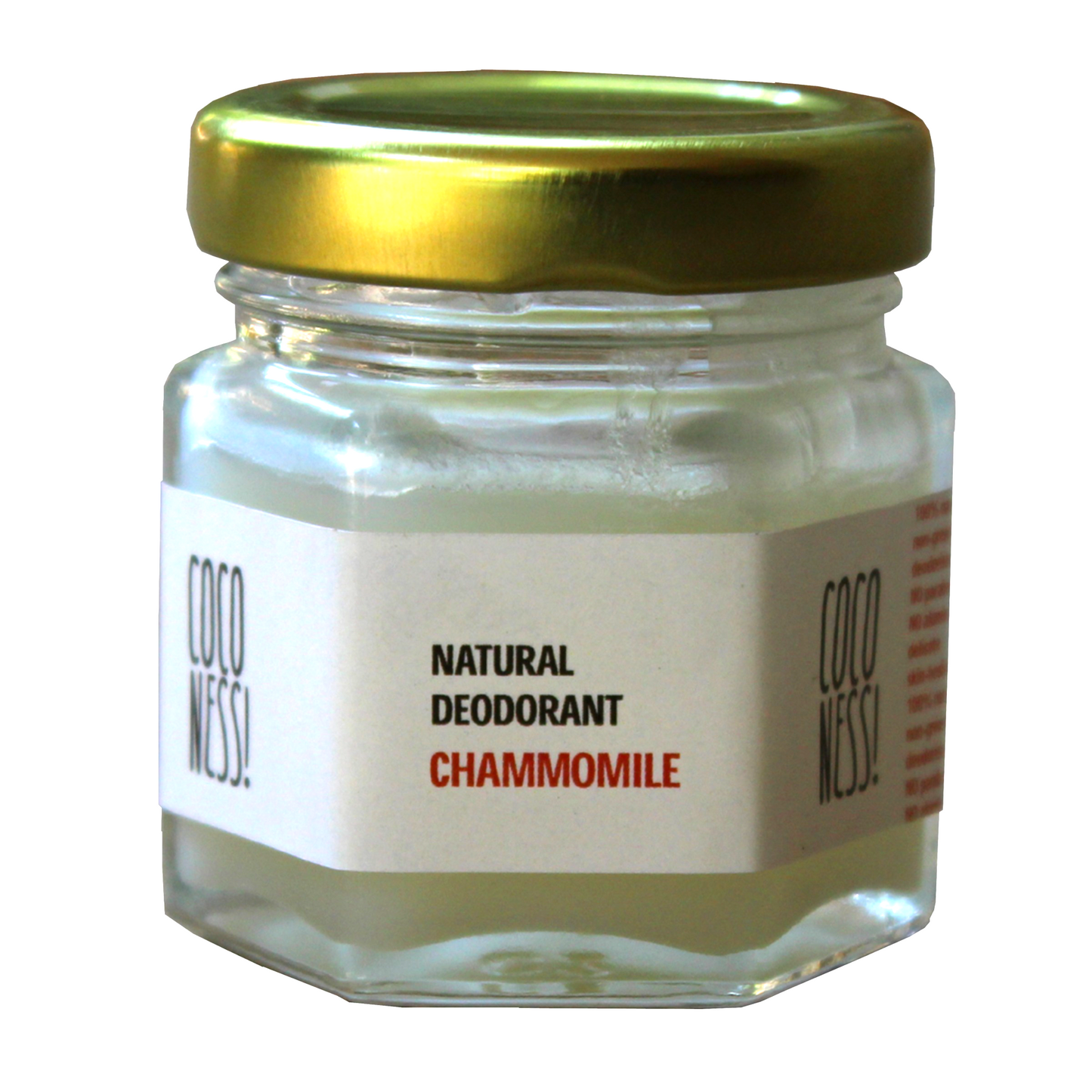 CASH ON DELIVERY
Receive products and pay at home
NATIONWIDE SHIPPING
Delivered in India within 4-5 days
AMAZING DISCOUNTS
Find great products at amazing prices